We are now accepting applications for the Summer 2016 Program and Fall 2016 school year. If you, or someone you know, are interested please find our contact information under the "Admission" tab. We are hosting an open house this month for those parents interested in summer or fall enrollment – Click Here for more info. Also, don't forget to watch for us at Bear Paw!
Open houses are being held June 18th, July 23rd, and August 13th. Please visit our Open House tab under the Admission bar for more information.

Dear Parents,
I would like to welcome you to the official Stone Path Montessori website!  Our gallery links have been updated so you can see first hand what we've done: projects and school upgrades.  Also, this website will provide you information about who we are, what we offer, and other useful resources related to the Montessori method.
In the meantime, this is an exciting time and you will hear many people talk about the transition from preschool to Kindergarten.  As parents, you can play an active role with your son or daughter's transition to kindergarten by doing the following:
becoming knowledgeable about your child's strengths and nurture them
being available to talk about your child's goals and issues and specifically how they relate to your son or daughter's situation
start to transfer the responsibility for managing their needs, successes, and decision-making to your son or daughter
encourage, support and follow through
I look forward to working with your son or daughter.  Stone Path Montessori is here to provide the highest quality preschool education so please do not hesitate to contact me with the following phone numbers:
(907) 688-6998 or (907) 854-9463.
Regards,
Kate
SPM Director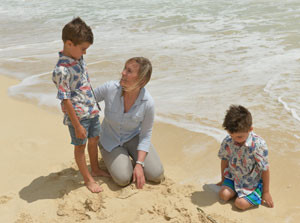 NEWS, ARTICLES AND CLIPS
The Seattle Tribune article – Montessori School participates in Model United Nations
New York Times article – Montessori Advantages in Early Education
Watch 1:10 min. video clip – Montessori Preschool Activity to practice with your child
Watch 3:59 min. video clip – Practical Life-Pouring Water
Watch 5 min. video clip – The Importance of Outdoor Play by Mom Life
Read Article – Separation Anxiety: An Age-by-Age Guide by Parenting.com
Watch 5 min. video clip – Maria Montessori: Her Life and Legacy